Choose the Longest Baby Bouncers or Baby Chairs, Because You'll Need the Space.
Baby bouncers are not alike, though they make look like it. Choose a baby chair for length and safety, more than toys or other features. A difference of only an inch or two counts. The Eddie Bauer line appears to be the shortest. The baby chair brand that's typically longest, is Fisher Price.
For a "long" baby bouncer your little one can safely grow in, The Fisher-Price Rainforest Bouncer is a favorite.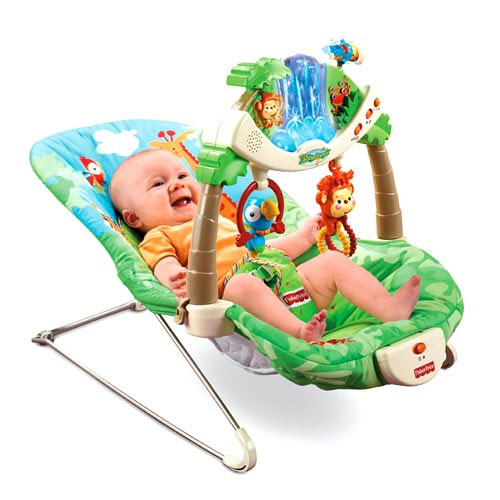 RECOMMENDATIONS:
As mentioned, our pick of the popular standards is the Fisher Price Rainforest bouncer for best length.
Inch for inch, and with length in both directions from the center, it's the Fisher Price Rainforest Bouncer which has the most room for growth. It also has generally great reviews from a wide scope of tall parents. Click through for current info and average pricing: Fisher-Price Rainforest Bouncer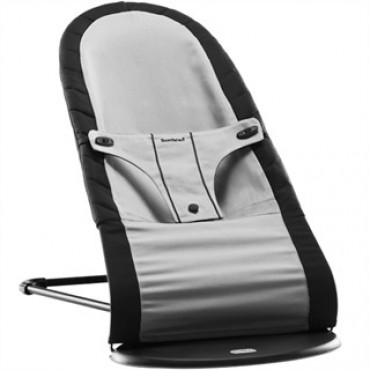 The BABYBJORN BabySitter Bouncer.
This bouncer has 3 settings from recline to nearly upright. That's great for a bigger baby that's "weighing down" a traditional bouncer, and who wants to sit more upright, but can't all the way. It is significantly pricier, however. Around $99. Also, take care that while in a more upright position, a taller baby can tip forward, out of the seatbelt, since his or her torso will be longer, and without shoulder straps. It's a "long" seat, but pay attention to that factor since it does move so upright. Check this link for current info, pricing and colors. Baby Bjorn Babysitter Bouncers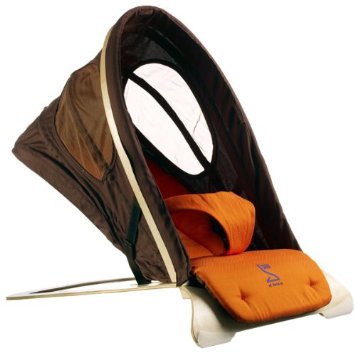 Svan Bouncer. WARNING A note for you if you've stumbled upon this sleek, Swedish baby bouncer chair that appears to be a "long" choice. Yes, it is 19" seat to top, and can accommodate up to 30 pounds. From strictly a size perspective, it's definitely tall. It's also around $100. It has two major drawbacks though. The first is, it doesn't really bounce! A parent has to make the thing "jerk" with their foot. (By contrast, the beauty of the wire frame baby bouncers is that your baby can create bouncing motion themselves. Ours sure did.)
WARNING As if not bouncing weren't enough, the second drawback is the seat belt. A long baby really needs shoulder harness in this chair design, because the seatbelt sits low. If not fully reclined, your baby can easily tip forward and hang him or herself at the waist! It happened to us. One trip the the bathroom, and we returned, baby was hanging upside down by his higher-than-average tummy. We returned it immediately. This is why, despite it's size, it's not a recommended pick. If you find it and are tempted because of the size, consider the lack of bounce, and the tip danger in a tall infant.
The other baby chairs we reviewed measure up as follows:
Fisher Price Li'l Laugh N' Learn Bouncer. 19" - 12" (total 31") Weight: up to 25 lbs. Similar in size to the Rainforest bouncer, just slightly shorter.
Fisher-Price Newborn-to-Toddler Portable Rocker
This chair is practically a bassinet, though it rocks instead of bounces. It's size and flexibility give it a longer life span for a tall baby than a normal seat. 26" fold to top, 18" bottom. Weight: up to 40 pounds when converted for toddlers.
SEATS TO AVOID - DUE TO SMALLER SIZE:
Fisher Price Lemon Papasan Infant Seat. (An exception to the Fisher Price is bigger rule. This one's small and flat.) 16" - 11" (total 26") Weight: up to 25 lbs. This is a relatively SMALL seat.
Kids II Inc. Cradle In Comfort, Pink Boppy Bouncer. 16" - 13" (total 29") Weight: up to 25 lbs. Not tall behind head/back section.
Sassy Zanzabar Bouncer. 16" - 11" (total 27") Weight up to 25 lbs. Not tall behind head/back.
Kids II Inc Bright Starts Musical Bouncing Buddies Cradling Bouncer. 15" - 11" (total 26") Weight: up to 25 lbs. Not tall
Eddie Bauer Soothing Comfort Bouncenette. 12" - 12" (total /24") The smallest we found.
Kids II Bright Starts By Your Side Infant Seat. Called a seat, but works like a swing. 14" - 11" (total 25") Weight: up to 25 lbs
The other pod style versions from various brands, and infant recliners, were all smaller than the Fisher Price. Return to baby swing from baby bouncers

Return to Tall Baby Stuff from baby bouncers
---