The Best Baby Carriers and Baby Slings
for Long Babies
Though the best baby carriers and baby slings say they can hold up to 25 or even 32 pounds, they don't tell you whether a long baby of any weight, actually fits correctly in them. This is another great opportunity for tall parents of tall babies to avoid another potentially expensive baby product mistake.
Buckled baby carriers are designed for the baby to sit upright, either facing you or facing outward as they grow. Here's the challenge: this upright design means the carriers have built in armholes at a height that doesn't match a tall baby's! The armholes are fixed, and are pretty much set in "the average length range" making them awkward or impossible for a longer-than-average infant. For your "long" little guy, the arm hole may hit at the middle of the upper arm.
These carriers you thought you could use for a newborn, wind up virtually useless until the baby is old enough and big enough to support his or her head, (3 months or so). At that point, they can then sit in the outward position with the flap folded down, resting below their armpits.
For several weeks with our infant, we found our Baby Bjorn nearly impossible to use easily, and we couldn't quite figure out why we were having the trouble other parents weren't. Then, at a backyard party where two other parents were using these carriers, we saw the difference.
Our little guy was so "tall", that facing inward at 6 weeks and over 10 pounds, his head was nearly higher than the head support, so he was terribly uncomfortable. His head sat much higher than the other babies' heads, even babies older than he. It wasn't safe to have his head unsupported. One of our arms was always busy doing the job. And because he was too young to support his head, he couldn't sit outward-facing yet. Even as he grew, his arms were higher than the armholes.
It took weeks for us to finally be able to use the Bjorn, when our tall baby was old enough to face outward with the armholes disregarded and under his armpits. And very soon after that, he would be beyond the weight limit. With a tall baby, these carriers have a much shorter useful life than for other infants.
These (and similar styles in other brands), make finding the best baby carrier a less than obvious choice. Essentially, all carriers we found with arm holes under a support strap, were holes too low for a tall baby.
Choosing the best baby sling
So why not just use a baby sling? Many of the fabric, pre-sewn slings won't fit. Those sewn in a closed loop, aren't anywhere big enough for a tall parent and/or tall baby. Others sewn with fixed strap placements and sewn-together sections are a problem fit too. An example is the Baby Sling by the Peanut Shell, it's just too small, even in the large size.
A good alternative is a Moby Wrap - newborn up to 35 pounds. It's available for $39-49 online, sometimes $59 or more in stores. As a large swath of fabric, there are no pre-sewn compartments that prohibit length.
Truthfully with the Moby, getting the wrapping part down, and the baby put inside, is a little clumsy at first. But this wrap does offer a few positions that work for long baby torsos! (Try it Joey Hold style.) Better to learn the wrapping technique and have everything else work, than have convenient buckles on a carrier that doesn't fit or fits for only a month.
As for daddy, we couldn't pay him to wrap himself in another big hunk of fabric during our hot summers. Some of the fabric on other wraps and slings cut into our shoulders or were otherwise uncomfortable. With a limited budget, we thought the best baby carrier would be asolution we could both use. While there are certainly more choices out there, we're commenting on some of the most popular.
Our Best Baby Carrier Solution
A combination of baby sling and baby carrier became our best baby carrier solution. Sling for the newborn, carrier later. And this combo costs the same in price as just one of the more typical carrier-style slings.
First: The Wendy Bellisimo Camo Sling, or Infantino Sling Rider.
It carries from newborn to 20 pounds, with the infant lying across the bottom cushion. This worked better than a baby wrap for us, because it was easier to use.

You could set the carrier down for a moment, with baby on a comfortable cushion. Putting the sling and baby back on again, required no re-wrapping, just a sling over the shoulder. (The Infantino - Sling Rider with CoolMax - Shabby Taupe
pictured here is nearly identical.) The drawback? A tall baby will reach the 20 pound limit and outgrow it fast. Some parents report their baby's uncomfortable or, "squished" but ours loved it. However, as a tall baby, he was big enough for something else very quickly. At that point you can move to the second option of our best baby carrier solution: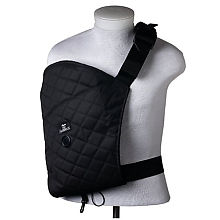 Next: Playtex Hip Hammock Standard Black/Black
Designed for 15-35 pounds, it's a carrier which allows the baby's arms to always be above the fabric - no arms holes to fit your baby's length into. Rumor has it, this one helps moms of twins too. For the short bursts when you simply have to carry both kids, one is in the hammock, one on the other hip.
Of course, when you do move up to a carrier, you could use other styles besides the Playtex, now that the baby is big enough to fold the top of a front style carrier under his arms. But those other carriers are an additional $79, versus the $29 of the Playtex hammock. They're still not necessarily the best baby carrier for tall babies, because they hold a tall baby's head up in front of your chin, or at least, very high.
If back, neck or hip problems mean you MUST carry the baby centered, consider a Snugli Carrier from EvenFlo...the Comfort Vent Soft Carrier in particular. This is the ONE carrier line we found which has more of a long arm space, rather than an arm hole. The space is set by a strap that is adjustable from above. Even at a young/tall age, you can adjust those straps for arm holes, at a higher point above their torso to accommodate a long and lean baby. But your tall baby may still be too tall for the head support as a newborn or young infant. This may become your second option, after a sling. See below.
To clarify the best baby carrier recommendations:
1. Wendy Bellissimo Camo Sling (birth to 20 pounds)
2. The Playtex hip Hammock (15-35 pounds)
OR
3. The Moby Wrap - newborn to 35 pounds, if you can master the wrapping and the warmth.
4. The EvenFlo Snugli Comfort Vent Soft Carrier
Just for reference, the common baby carriers with arm holes and head supports problematic for tall babies include: Baby Bjorn (even though there is a hard-to-find tall version, it's for tall parents, not tall babies. The problem still exists.)
Lassal
Infantino Front2Back Rider
Chicco UltraSoft Carrier
Infantino Sling Rider
These listed above will work wonderfully for your baby at a very particular time and stage, but they won't have the length of use because of the set torso size, so we recommend other long and lean baby solutions.
Return to TallBabyStuff from Best Baby Carriers and Slings
---